Bonus Points and Earn Coupons
Earning Discount Coupons(No minimum consumption)
How to get discount coupons?
1. When you view any of our product details pages, ①there will be a social media sharing button at the bottom of the additional purchase button. ②You can click then share on Facebook, Twitter or Pin it. ③DM us or send it to support@broswear.com (NOTE: Email title is: Sharing Coupon). A 15% Off coupon code will be sent to you for shopping.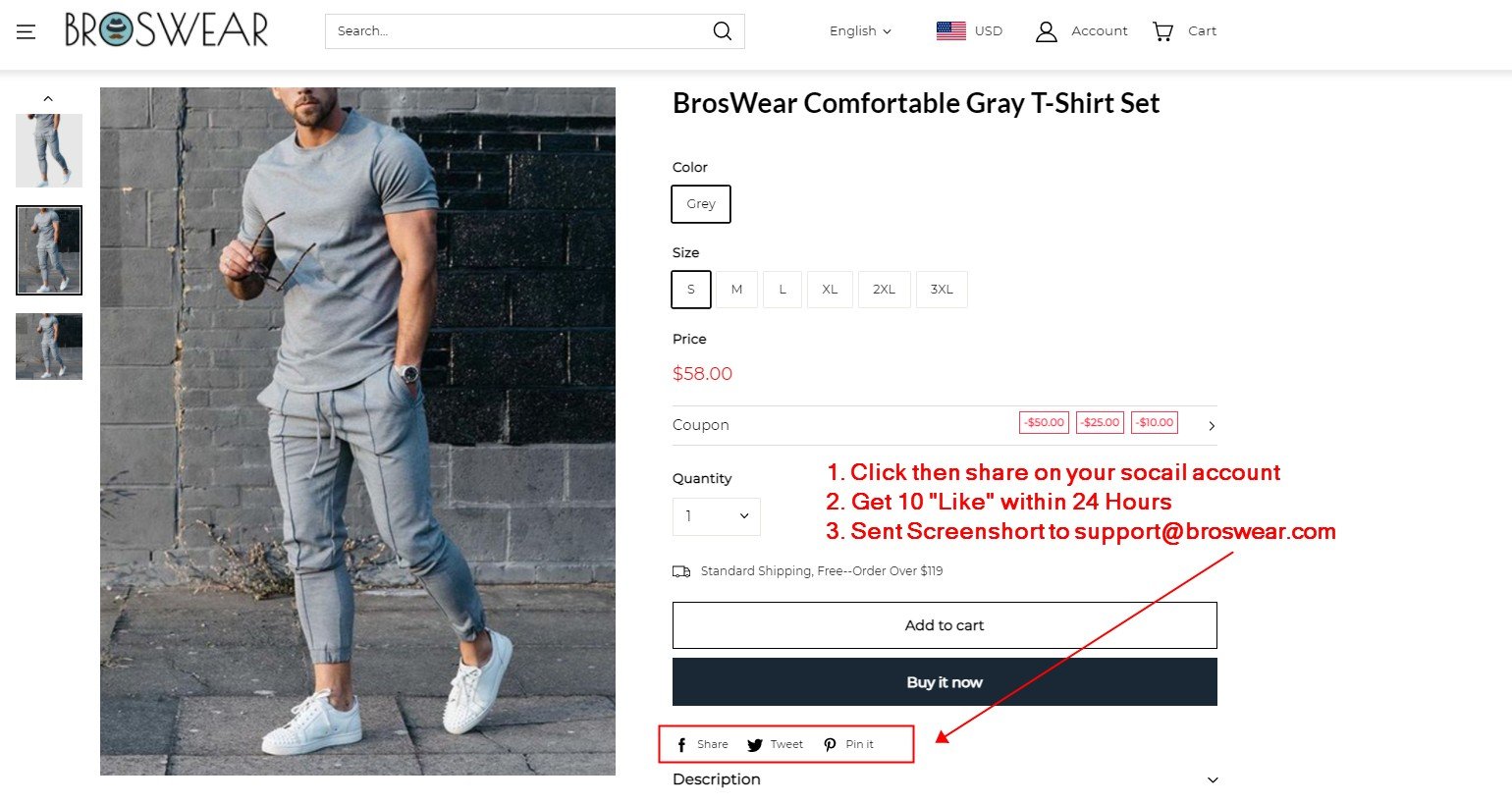 2. Make suggestions
You can send us your suggestions by email (support@broswear.com), Once your suggestions are accepted, you will get a 15% OFF coupon(no minimum consumption)
3. Review our products
Points can be earned by posting comments and reviews on purchased items. If it meets the minimum requirement of product comments text, you will get points.
| | | |
| --- | --- | --- |
| Post a comment(Not less than 20 words) | Post a comment with pictures | Post a comment with size information |
| $5 | $10 | $15 |
Log into your BrosWear account
Click on "My Orders"
Go to the order containing the item you want to review
Then click "Write a Review" and upload a comment or a photo as you like
Submit your reviews for verification
Then send a screenshot of the review you wrote to email
support@broswear.com

NOTES:
1. Your review will appear on the product page after it has been verified by our staff.
2. Please note that you can get a maximum of a $15 coupon by making comments every day.
Rewards Points
What are the points?
Points are a kind of virtual currency on the BrosWear website. You can choose to use and deduct part of the payment amount when placing an order.
How to earn points?
Vip rewards points can be obtained through shopping, registration, and sharing invitations.
Buy and Earn(paid successfully only): 1$=2 points. Points will be credited to your account once you confirm the delivery of your order.
Registration: New user registration can get 20 points.
Sharing invitations: share invitations through Pinterest, Twitter, and Facebook at the same time to get reward points.
①Facebook: 20 points;
②Pinterest: 16 points;
③Twitter: 10 points.
Inviters get a discount coupon of 20% and the invitee can get a discount coupon of 15% which can be used for platform consumption.
You can use the points to deduct the total amount of products when you place your order (only the total price of products is supported, excluding shipping, and insurance).
5. Points are valid for 3 months, if your points expired before being used, they will be deleted from your account.
How to use points?
The platform will set up a point redemption module, which users can enter to redeem, the redemption rules:
50 points can be exchanged for $5 (no minimum consumption)

100 points can be exchanged for $15 (no minimum consumption)

300 points can get $40 (no minimum consumption)
How to check points balance, Earn points and Redeem?
Here are the steps for Checking points balance, Earning points, Redeem. Please check and do it to save more money.
Please log in to your BrosWear account and click on icon to view the balance. (After entering the website, there is a diamond-like icon in the lower left corner, please click it ). As the picture shows
Click "History" then check the balance
Earn Points: you can click "Share", and then share on your twitter, Facebook, Pinterest account at the meanwhile. Finally, different points will be sent to your account, and you will receive an email notification.
Redeem: we can spend our points from this page, Please see the description of the redemption rules in the picture.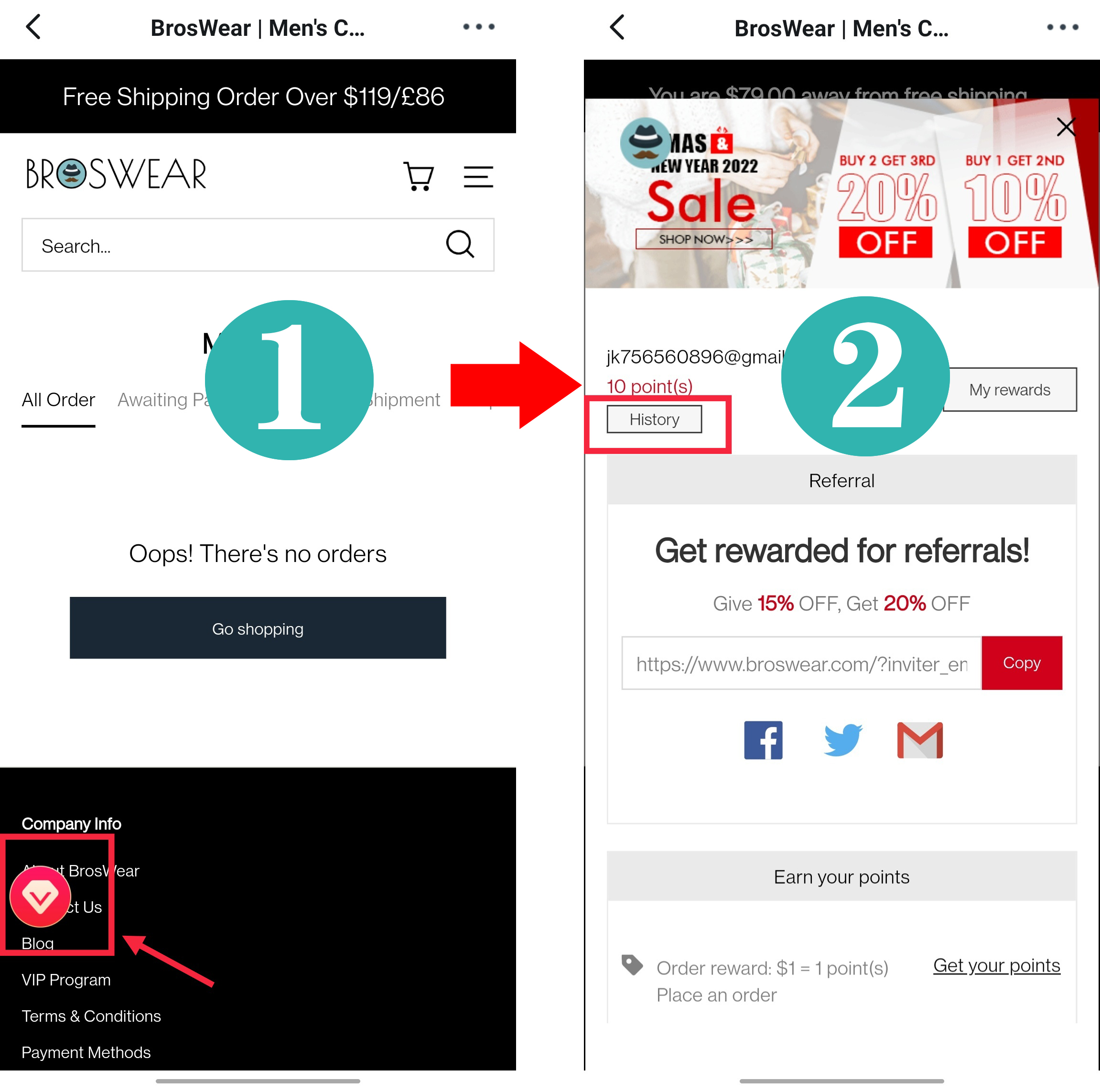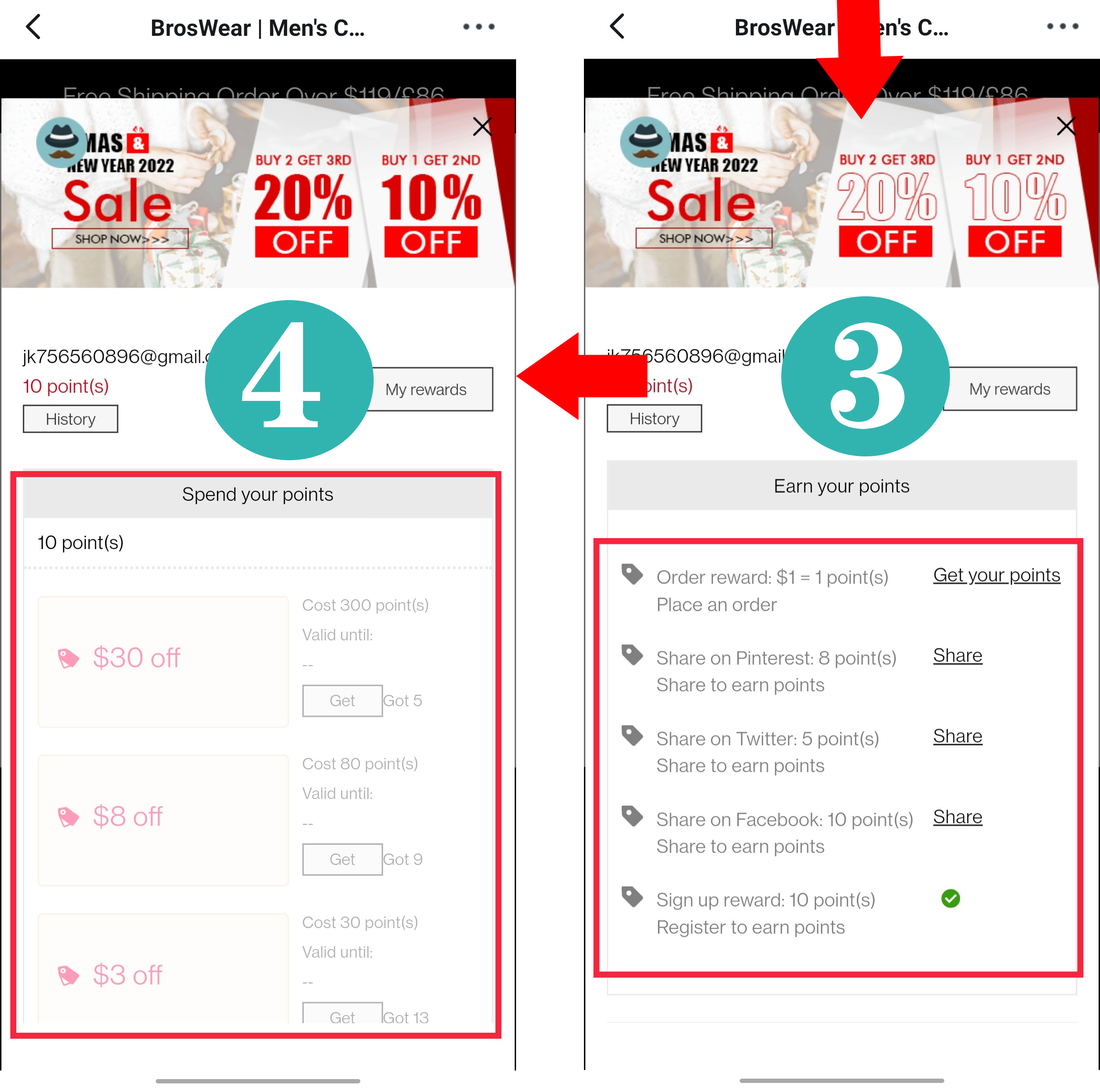 NOTES:
If a refund is requested, rewards points will not be returned! If you have any questions, please feel free to contact our customer service(Email: <support@broswear.com>)
BrosWear reserves all rights to judgment in the event of disputes under the VIP membership rules.
What are you waiting for? Join us now! ! More surprises and offers are waiting for you! Join In>>>