How to Style Men's Long Sleeve Shirts? | OOTD Look
Dec 01, 2021 by BrosWear | Men's Clothing Shop | Casual & Vintage
As the weather gets colder, do you prepare one long sleeve tops for your daily outfit or as one undershirt? Long sleeve shirts provide better coverage, highlight your arms, keep you cozy, and work as layering shirts or on their own. Whether you are wearing a red floral long sleeve undershirt or need a swimsuit cover, a long sleeve is excellent because they are comfortable and give you more coverage than any other shirt. Long sleeves are a great choice for things like early morning runs or rainy days. You can also consider a long sleeve when you go camping, boating or on a road trip! Long sleeve not only can keep warm but also can protect you from uv rays when you're outdoors.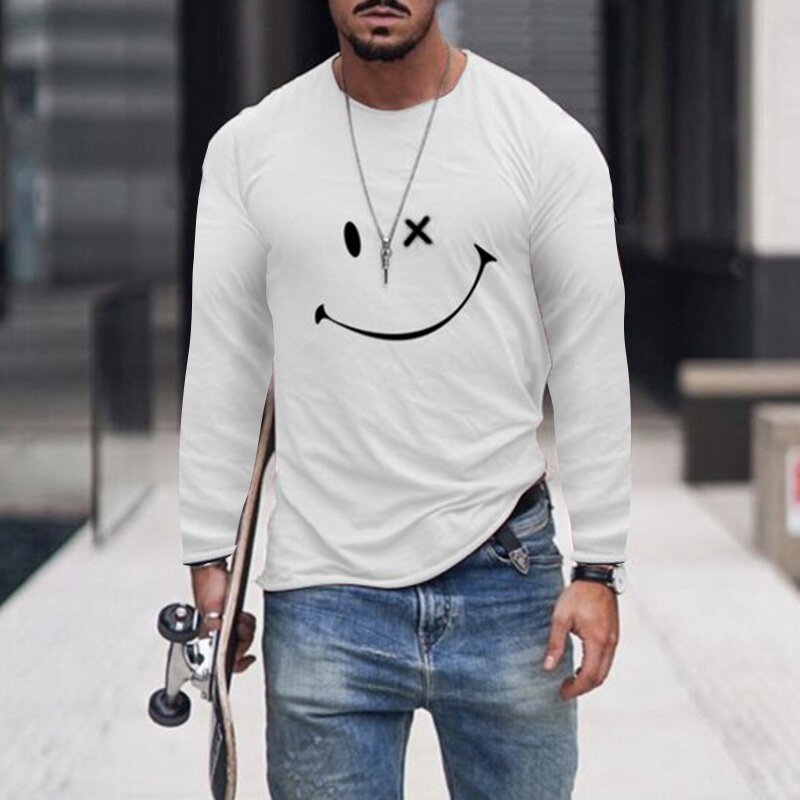 Before introduce the long sleeve shirts & tops, let's know about the types of the men's long sleeve shirts. Generally the long sleeve has two types: the plain long tee or the printed long tee. The plain long sleeve only has the solid color. Plain long sleeve shirts are the easiest staple item for men to pull off. As we mentioned, these are t-shirts in solid colours that are reliable in pairing with just about everything. Graphic long sleeve shirts can show your own style. Graphic long sleeve shirts follow the same rules as the plain tee but they're a step up in terms of giving your look a bit more character. Whether it's a graphic design, a brand or words of wisdom, the only rule is to keep it subtle. They can work either in a similar hue (grey on blue) or contrasting (white on blue).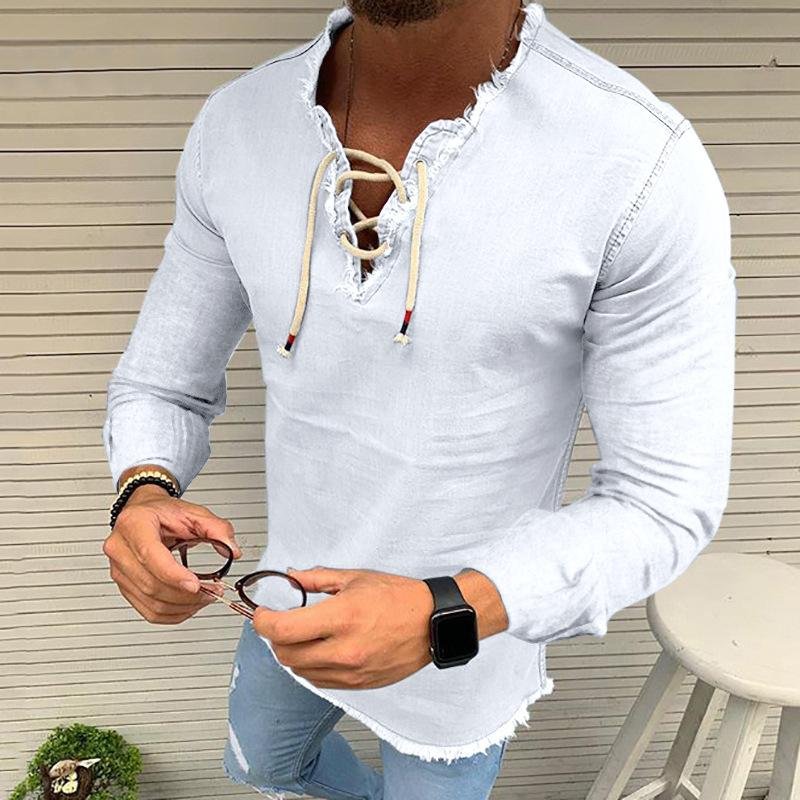 Except the above long sleeve type there are different types of the long sleeve neck style such as the V neck, round neck, POLO, long sleeve Henley and more. More men's long sleeve details please click broswear.com to see more. Now let's introduce some long sleeve tops OOTD look to you!
BrosWear Long Sleeve Outfit Collection
OOTD 1 : Casual Style Long Sleeve Under T Shirt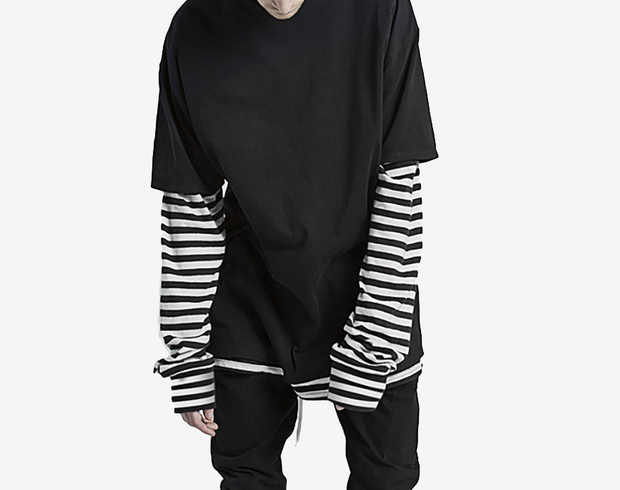 There's nothing more fun than layering! So, of course, we're in favor of two t-shirts with different sleeve lengths worn together. For a super comfy and lounge-friendly look, choose two baggy t-shirts - one with full sleeves and one with half sleeves. Pair them with baggy trousers and sneakers.
OOTD 2: Cool Style Long Sleeve With Jean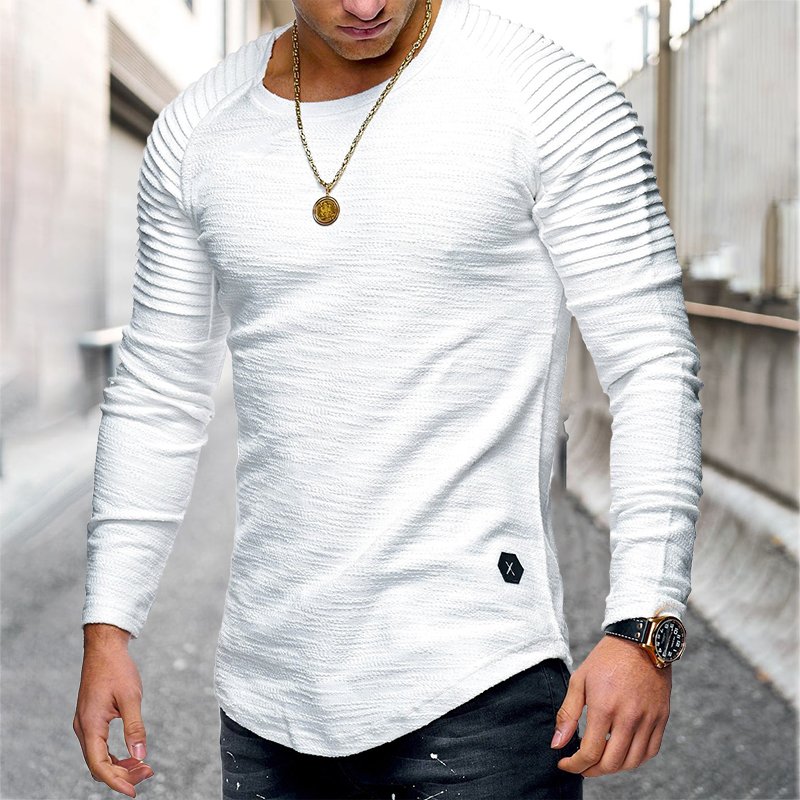 Classic blue denims for men are our all-time favorites and with good reason. Is there anything that a pair of jeans doesn't look good with? Put those distressed denims for men to good use with a pair of white sneakers and a long-sleeved t-shirt! We love ours with pockets so that we can appear a little more nonchalant while we're walking down the street.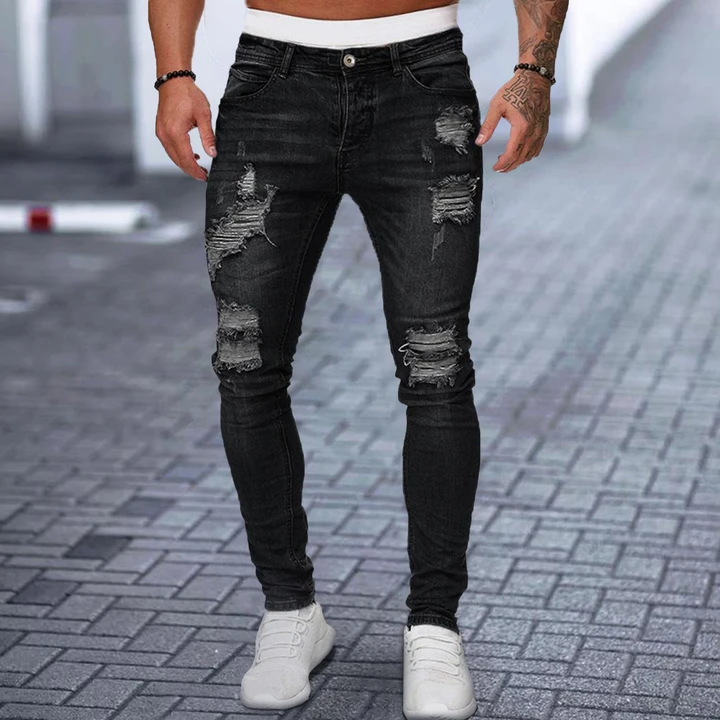 OOTD 3: Sport Style Long Sleeve T Shirts With Joggers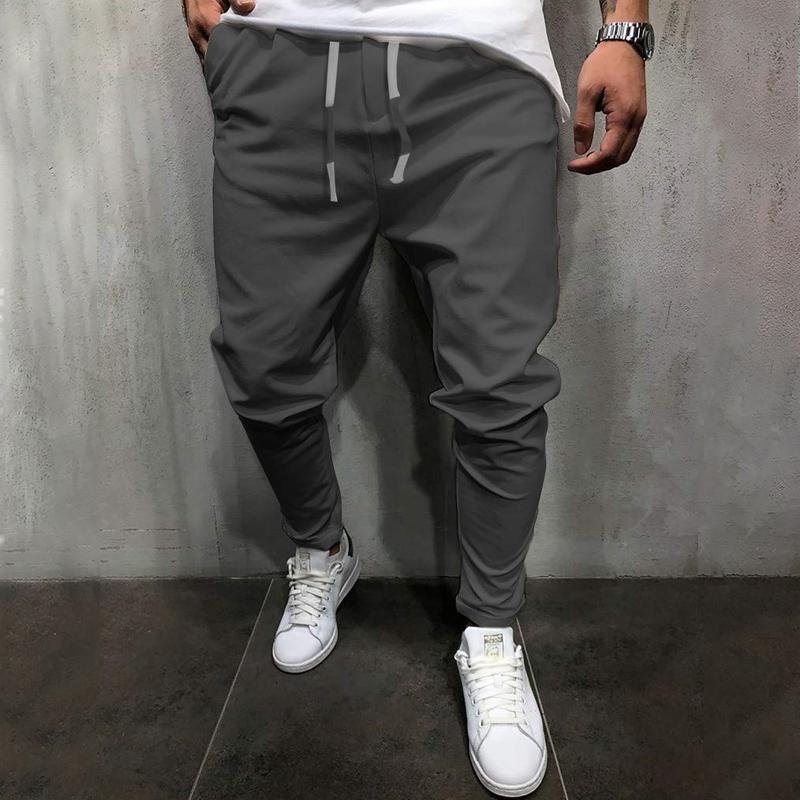 There is nothing better than men's joggers for road trips as they establish the right balance between comfort and style. All you need to finish this look is a pair of sunglasses and a long-sleeved t-shirt. The undershirt has Moisture Wicking function is the best.
OOTD 4: Holiday Style Long Sleeve T Shirt With Shorts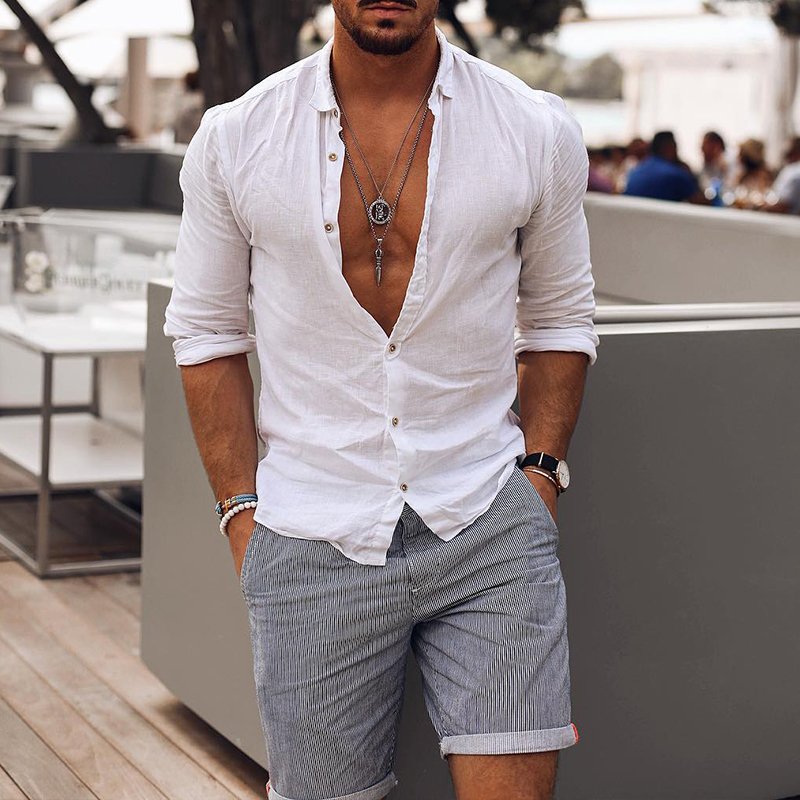 Wear a pair of white shorts with a bold-hued t-shirt, preferably with a print if you're vacationing in the outdoors or sightseeing. You can finish with trainers or sneakers, whatever's comfier.
OOTD 5: Office Style Long Sleeve T Shirts With Vest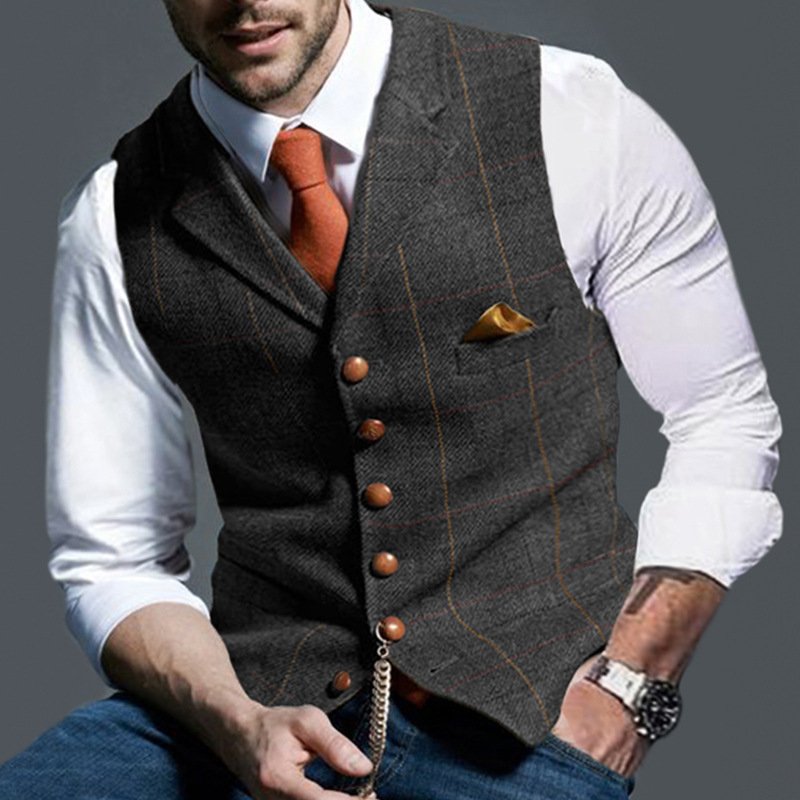 This combination enables you to sport smart AND easygoing at the same time. Leave the styling of your long sleeve t shirt outfits to us! Get that cool-guy look going for you from the boardroom to the dining room by wearing a vest underneath a long-sleeved tee. Wear straight cut pants that are the right fit for you, and a pair of the cleanest white shoes you own. You're sure to win compliments not just from your date but also from your colleagues!
OOTD 6 : Henley Button up Style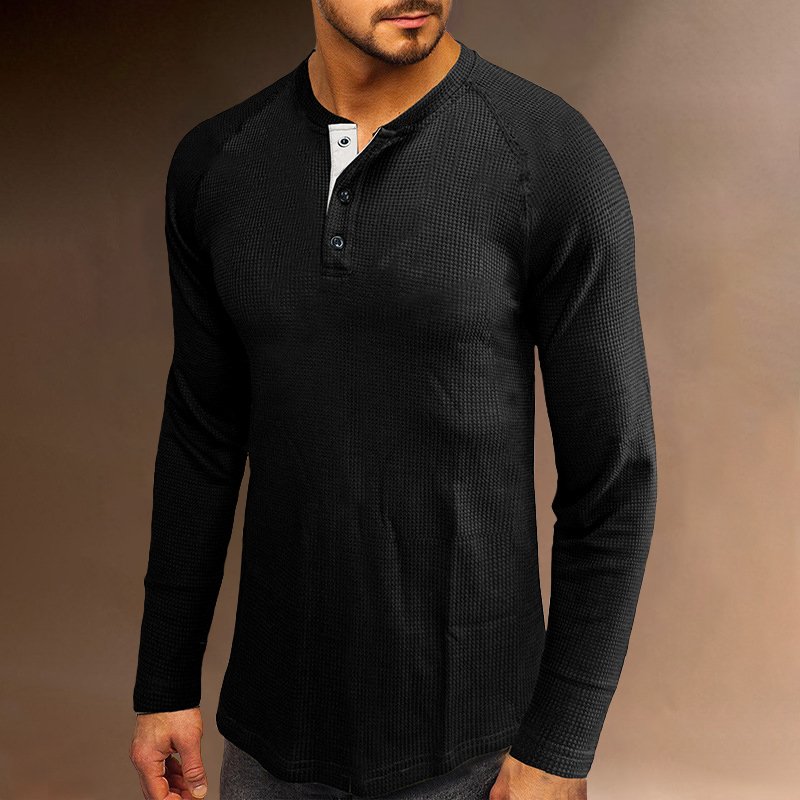 Looking to add a little flair to your long sleeve style? The classic Henley is a perfect choice. Broswear's long sleeve Henley is an excellently priced pick for dudes to strut their stuff in this winter. There are three buttons in total and it looks great buttoned up or down, depending on your style. It's so comfortable, you're going to want more than one — which is great because there are so many handsome colors to choose from.
OOTD 7: Warm Style Put a Jacket on It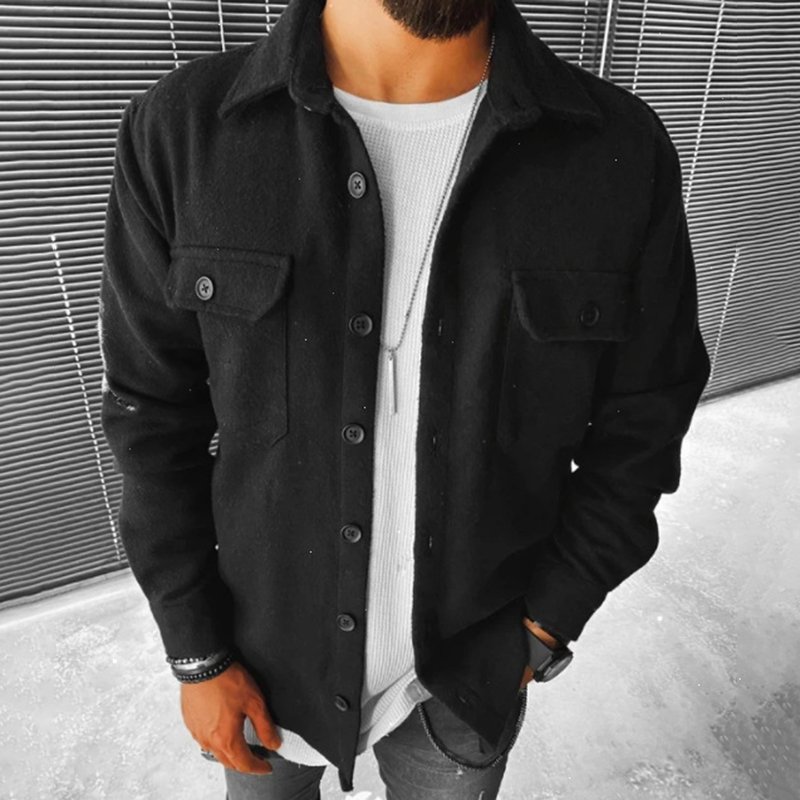 Layering a basic tee is a great way to blend both style and comfort look into any outfit.
Layer with a blazer for the ultimate business casual look that doesn't compromise on style or ease of wear. For layering with a blazer, stick to basic colours, like black, grey, or white.
If you're out and about on the weekend or going out to dinner for date night, a dark-coloured tee underneath a casual jacket gives the wearer an effortless look and keeps you feeling comfortable but also looking put together and stylish.
OOTD 8: Look Young Take Out your Sweater Vest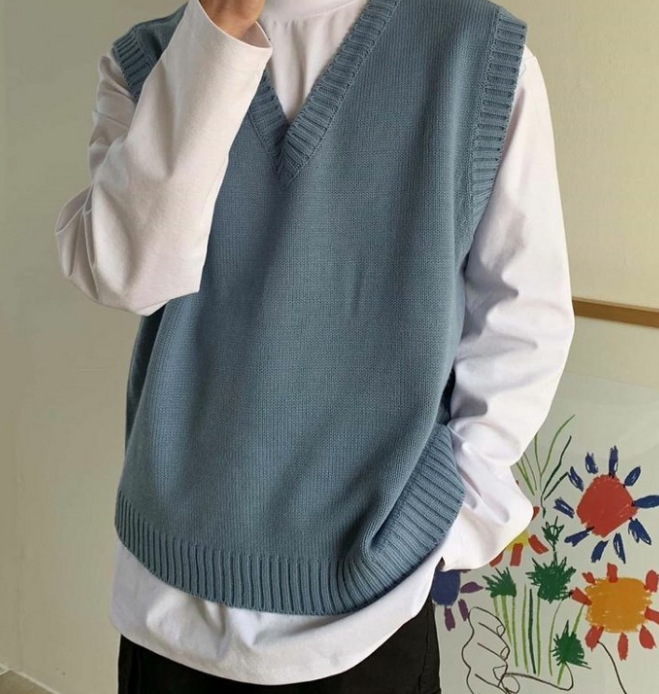 If you are a 90's kid and grew up watching Friends (An American sitcom), then you may be familiar with Chandler's sweater vests. You will be glad to know that they are now trending!
You can pair up your sweater vest over an oversized T-shirt with loose trousers or baggy jeans. A long-sleeved t-shirt with V-neck sweater vest is a great option to go with. A little thing to consider here is that don't wear a v-neck t-shirt with a v-neck sweater vest.
As for the footwear you can wear any pair of shoes and it will go well with it.
Men's Long sleeve choosing tips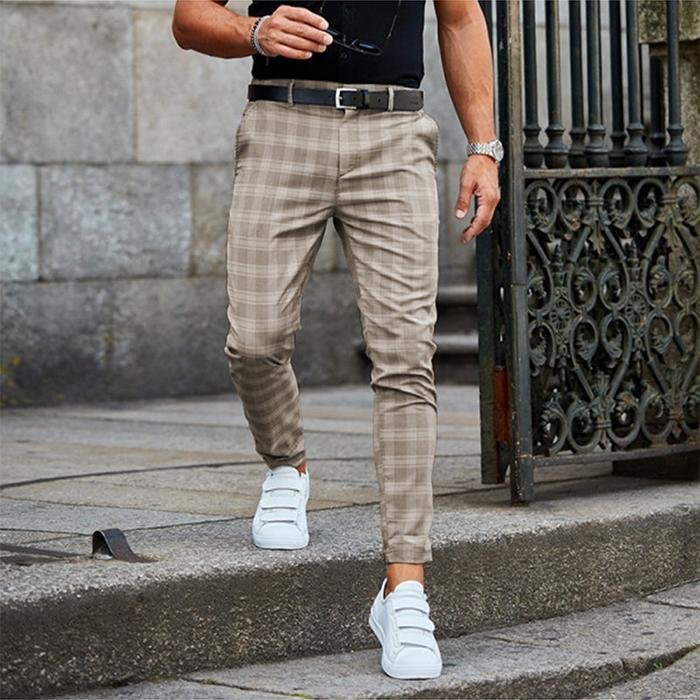 Body type
Go get fitted for the best size that will flatter your body type. Please check the size chart before buying the long sleeve. Broswear.com has the details size suggestion. Flattering your body style is just the first step in finding the best long sleeve shirt for you.
Personal style
Are you the kind of person who loves picking comfort over style? Or are you the kind who loves staying up-to-date with current trends and adapting to them too? Ask yourself these questions so that the t-shirt you pick is a direct reflection of you, and you don't feel out of place wearing it.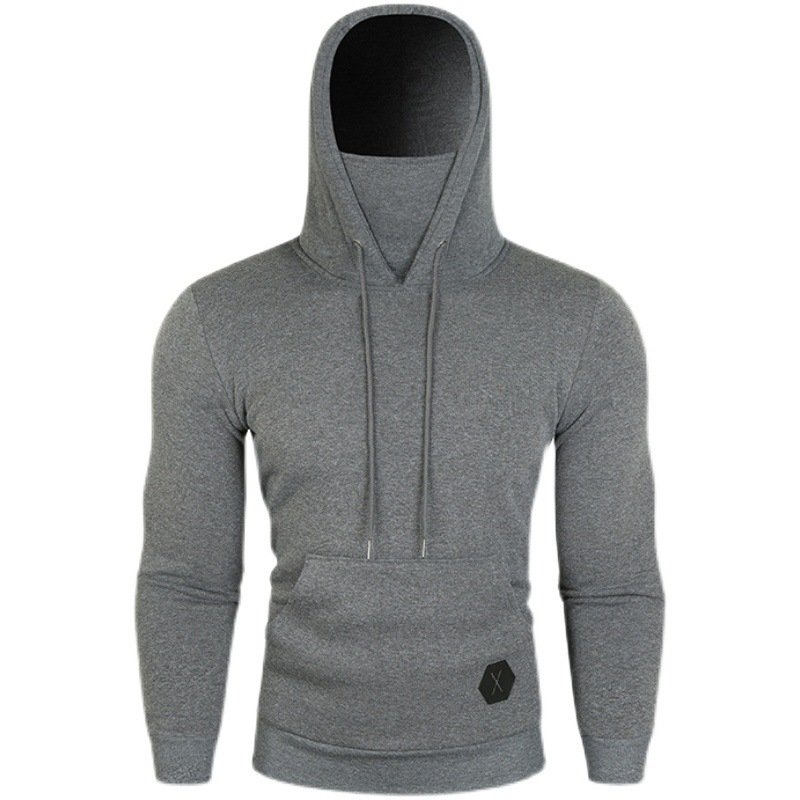 Material
Different seasons demand different materials, and you sure as hell can't be caught dead wearing a non-absorbent t-shirt on the hotter days. You might want to consider building a t-shirt collection that is well suited for every season. Pick pure cotton or linen for summers, knitted fabrics for winters and synthetic materials for monsoon.
Accessories to Go with Long Sleeve
Hats
In any season, there are choices when it comes to your hat accessory selections. We can always pull off a favorable outcome with a beanie on a cold winter day in NYC. It allows you to stay warm paired with the long sleeve white shirt, a jacket, and some styling chinos you are enjoying a hot cup of coffee and the spectacular sights.
Sling Chest Bag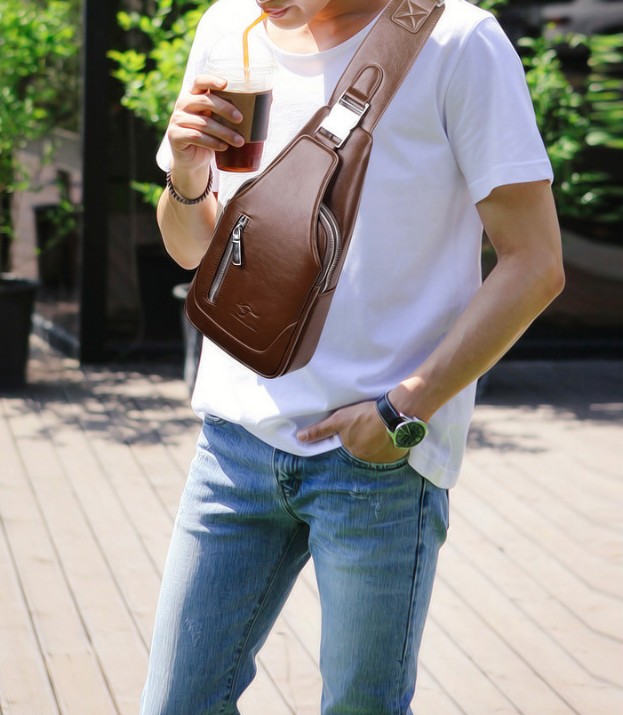 Sling bags work best when used to carry daily essentials, such as laptops or iPads, water bottles, wallets, purses and phones. Sling bags are popular because they are a great alternative to a briefcase or handbag for men. You can fit a considerable amount inside, and they usually include helpful features like organisers and extra pockets, sometimes with anti-theft technology. As they're carried on your back, they're a nice, casual alternative to a full backpack.
Automatic Buckle Belt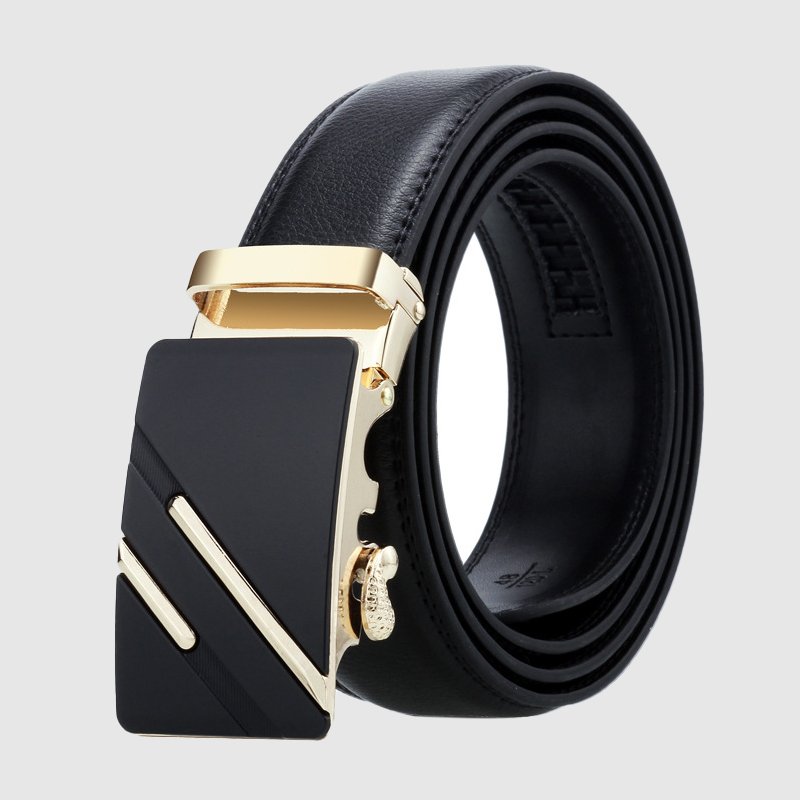 The advantage of the automatic buckle belt is that it is easy to adjust the buckle to your comfortable position and not easy to move. With high-quality ,the solid zinc alloy buckle has excellent wear resistance and durability.
Necklace Decoration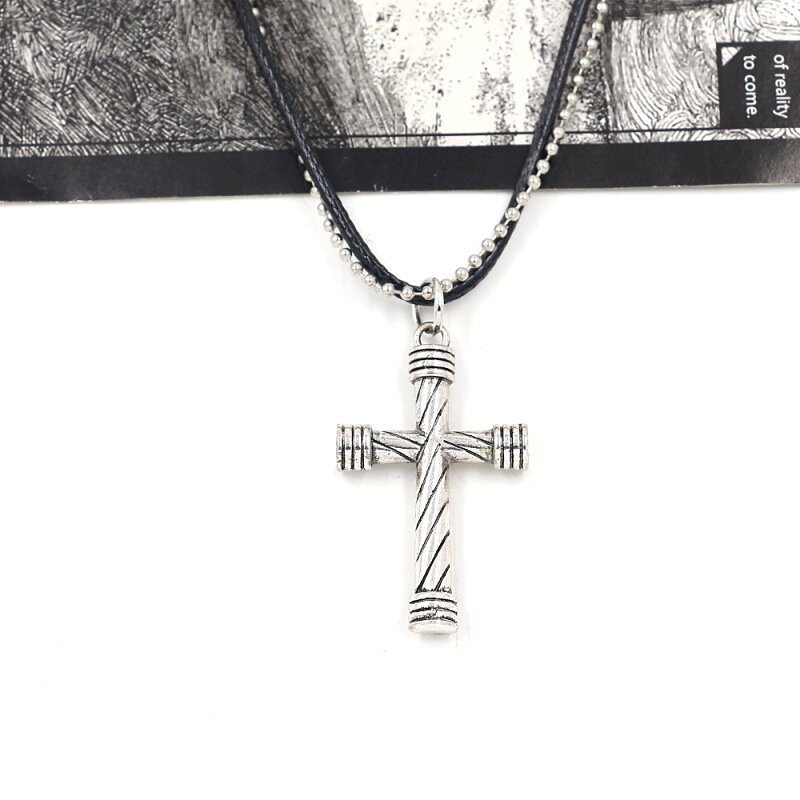 A good necklace can be a great accent piece for a well-dressed man just like a men's ring, necktie or a good set of cufflinks. Most will be of the pendant style. Christian crosses, Stars of David, scapulars and other symbols can all be made into dangling ornaments easily enough. These are normally worn under the shirt against the body on a chain long enough that the ornament falls below the neckline. The necklace with the V neck long sleeve is perfect match!
The way a man dresses, effects the swagger they hold with their attitude and confidence. Looking and feeling their best, even if it is just a walk to the market, will add assurance they look their best. Do you want to know the Types Of Different T-Shirt Fabrics? Please follow Broswear, we are men's clothing supplier, we will share you men clothes news to you.