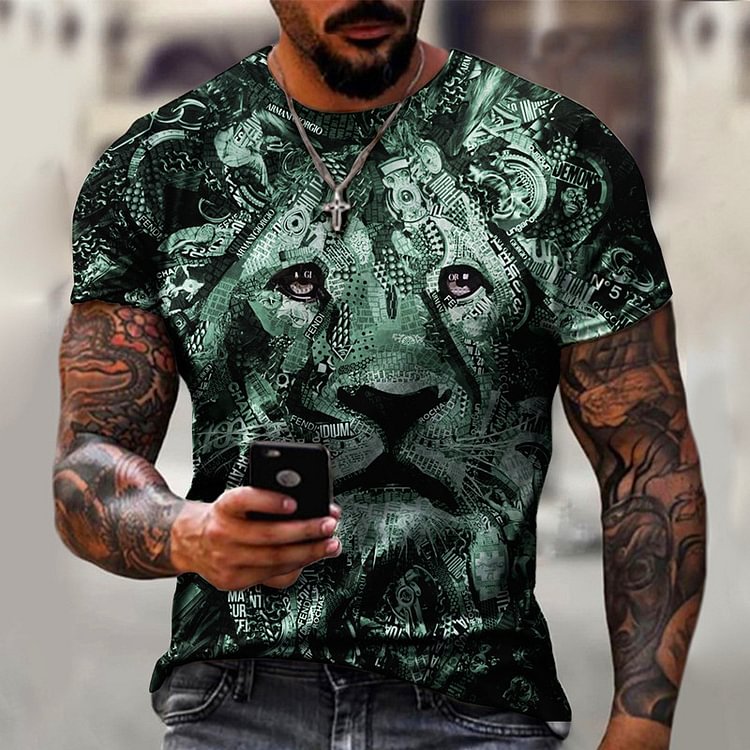 BrosWear Men's Retro Animal Series Lion Print T-shirt
SPU: XH-23753-FY
Fabric Name: Polyester
Pattern: Printed
Process: Printed
Length: Regular
Collar: Round Neck
Popular Element: Printed
Theme: Summer
Occasion: Everyday
Style: Casual
Sleeve Type: Short sleeve

NOTE: If you are not sure, please choose a larger size.If you have any doubts about this product,we suggest you contact our customer service team.
Size
Length
Bust
Shoulder
Sleeve
cm
inch
cm
inch
cm
inch
cm
inch
S
65
25.4
96
37.4
44
17.2
20
7.8
M
67
26.1
100
39.0
45
17.6
20
7.8
L
69
26.9
104
40.6
46
17.9
21
8.2
XL
71
27.7
108
42.1
47
18.3
22
8.6
2XL
73
28.5
112
43.7
48
18.7
23
9.0
3XL
75
29.3
116
45.2
49
19.1
23
9.0
Due to manual measurement, there may be an error of 1-3cm
Since difference electronic device(computer, cell phone or ipad) screens have chromatic aberration, especially between CRT screen and LCD screen, there might be a slightly difference shown between the item's color and what you see in photo
Don't know your size? Our size guide will help you find the suitable size!
1.Where is the size reference displayed?
Just click on the "Size Reference" button on each product page to find out the measurements which you can view in centimeters and inches, as well as instructions on how to measure to ensure it fits perfectly.
2.HOW TO CHOOSE YOUR SIZE ?
Take your measurements using a tape measure, then refer to our size guide.
WAIST : Measure form the end of the shoulder down to the wrist.
HIP : Measure around the fullest part of your hips. Leave enough room to move comfortably.
A.

Measure around the base of your own neck,keeping two fingers between your neck and the tape measure.




B.

Measure from the end of the shoulder and down to preferred length.




C.

Measure around yourchest.




D.

Measure around the fullest part of your waist.




E.

Measure from the crotch down to the desired leg length.
3.General standard grading for Numeric Sizes:
Size 00-10: 1" all around circumference (e.g.: Between a size 2 and 4, the bust, waist, and hips measurements will each increase 1" in circumference)

Size 10 and up: 1.5" all around circumference between sizes
General standard grading for Letter Sizes:
Size S – L: 2" all around circumference between sizes

Size L and up: 3" all around circumference between sizes
Letter sizes are usually meant to cover a wide range of sizes, for example:
XS = 0-2 , S = 4-6 , M = 8-10 , L = 10-12
4.To decide which method will work best for your product consider the following:
Style and fit – T-shirts, sweatshirts, hoodies, pajamas or even overcoats etc. usually have a looser, more relaxing fit which is why the majority of these styles have letter sizes. Fitted dress pants, a fitted button down shirt or dresses have more importance placed on fit and therefore you want less grading differences between sizes.

Fabric – Depending on the amount of stretch, styles made in a stretch fabric, such as active or performance wear, you might choose to run letter sizes. The same might go for really heavy fabrics such as a coat fabric where 1" grading might not make as much of a difference.

Look – Letter sizing is often most appropriate for and best fits the definition of casual wear, whereas dressier and formal wear that uses number sizing is often perceived as higher end due to its higher fit standards and quality.
Note: There is different size chart in each product, please go to product page to find the size chart.
Worldwide Standard Shipping, Free--Order Over $99

*For Normal Products, Delivery Time(13-21 Days)=Processing Time+Shipping Time
1. Processing Time Normally 3-7 Business Days
2. Shipping Time Normally 10-14 Business Days
*For Pre-sale Products, Delivery Time(20-35 Days) = Test time+ Stocking time+Shipping time days
1. Test Time(products sale test online): 3-5 Days
2. Stocking Time: 10-12 Days
3. Shipping Time: 7-15 Business Days

Import taxes and duties will be Charged at the time of checkout(UK & EU 27 Countries)
Click here to see shipping information for all locations. Please note that due to the COVID-19 pandemic, shipping may take longer than estimated.
PAY WITH PayPal
1. With PayPal, you can send payment quickly and securely on-line. Once your order is submitted, you will be redirected to PayPal's site where you could make the payment.

2. Through PayPal, you can pay with credit card, debit card, or bank account balance.

3. You may still check out even without a PayPal account. To do so, please click on "Pay with Debit/Credit Card" and you'll be redirected to a secure page where you can enter your credit card information or complete your payment safely via PayPal.

Pay With Credit/Debit Card

We support credit cards shown as below pic; please note that BROSWEAR does not collect your credit/debit card number or personal information when you make a payment, and we take your security seriously.